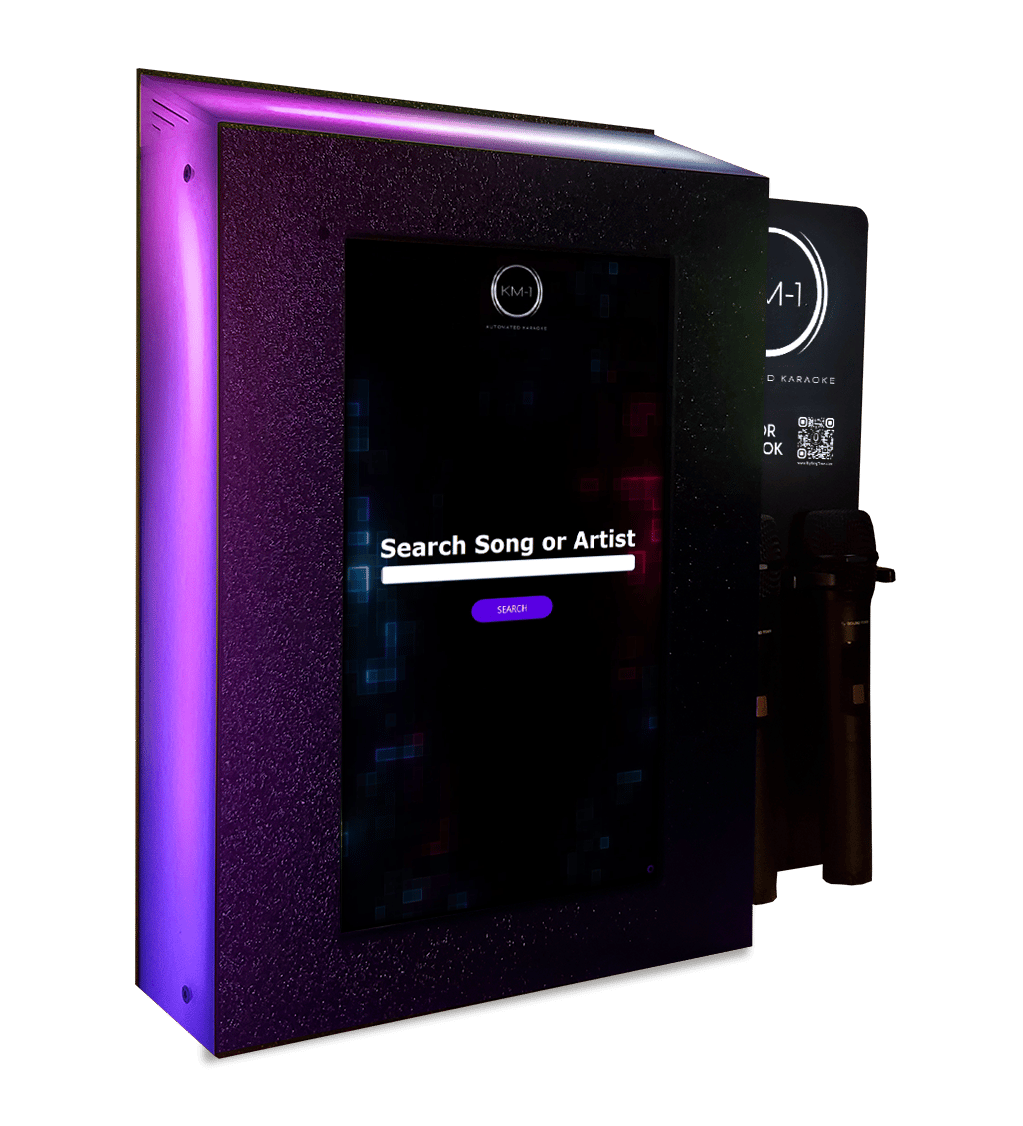 The KM-1 is the only FULLY AUTOMATED karaoke system in existence. It delivers a proper show without the need of an operator, while saving businesses over 60% in monthly karaoke costs.
Once the basic set up is complete, the admin simply presses the "Start Show" button. Our custom made software, sensors and virtual karaoke host do the rest!
The key to a great user experience is simplicity.

Singers can easily search songs by artist or title, change song key up or down, and view the song queue.
To deliver a true karaoke show, we have developed an A.I. karaoke host that guides the event. With natural timing, the virtual host introduces the show, calls up singers by name and calls the audience for applause. In addition, the host makes queue and show closing announcements.
The KM-1 is equipped to handle real world scenarios. Our virtual host will call a singer twice, giving them enough time to start their song. If the singer fails to come to the mic the queue moves on to the next person. The system also gives queue placement notification, and a warning if a song has been chosen by another singer.
Proper Hardware Placement
The equipment layout makes it easy for users to perform. Microphones are in strategic positions, enabling the user to grab the mic and sing. Our sensor technology plays the karaoke track when the microphone is picked up.
We connect to your house speakers via one 3.5mm audio cord. The admin can control the overall volume by simply adjusting the house system.
We have specially developed technology in the KM-1 that automatically adjusts microphone volume levels, this eliminates any loud or harsh bursts from singers. The result is a professional balance of sound, delivering a comfortable listening experience.
The KM-1 comes with a simple wireless receiver, which broadcasts the karaoke lyrics to your venue tv.
Our system has the best selection of filler music that's played in between singers. The seamless integration of filler music is another essential ingredient in running the most engaging karaoke events.
In the admin settings you can view how much time is left in a show, lengthen show duration, restart show, adjust karaoke music volume and more!
For answers to the most common questions about the KM-1 click the link below.